2020 Wille 265 Urban Machine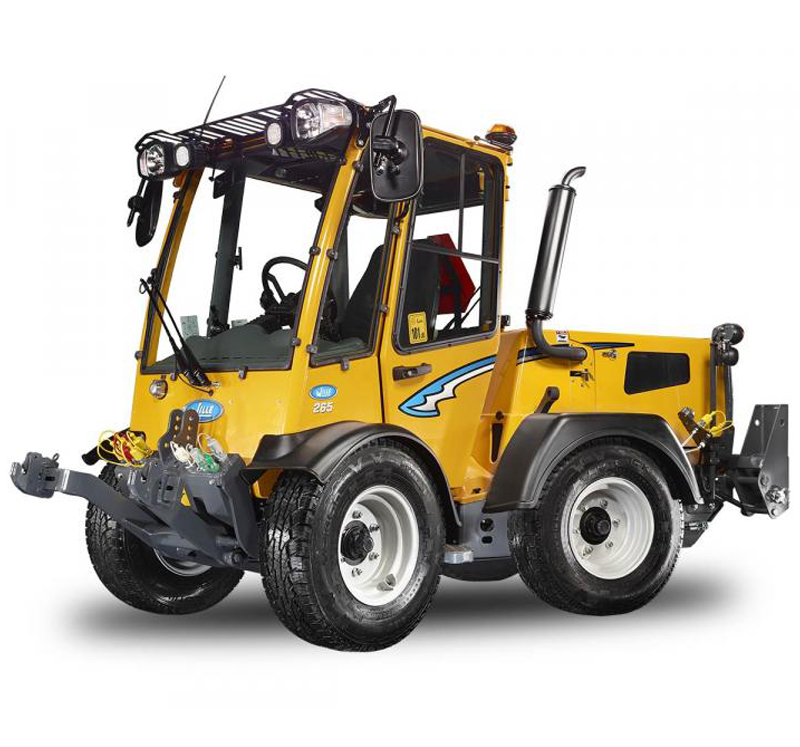 Price: Call for pricing
The little giant of our streets is at home in environmental management tasks on the narrow streets and pathways, parking decks and urban parks. Thanks to being less than 2 metres in height, the machine fits easily to operate in multi-level car parks and the inner yards of blocks of flats. Do not let the small size deceive you – the Wille 265 can deal with even tough snow-clearing operations, and the cabin is spacious for its size and user-friendly. The machine has flow control of motor hydraulics as standard equipment, which eases the control of work attachments in various situations. The small Wille can work all year round ploughing, sweeping, cutting and collecting.
Ask about best pricing, deals or promotions.
Enquire about this Machine
PRODUCT FEATURES
For narrow streets or grass
In addition to normal width, our smallest powerful machine is available as a narrow and a wide model. The narrowest model is only 1,200 mm in width, allowing it to plough snow even in narrow locations. The wide grass tyres make the machine particularly well-suited for lawn mowing, because wide tyres distribute the surface pressure on a larger area and make the machine more lawn friendly.

Exceptional in its size category
The Wille 265 is equipped with a mechanical drive transmission, which brings it clear benefit compared to its competitors especially when working on areas with uneven grip.

Easy access to the engine compartment
To make it easier for you to check the liquids of the engine compartment or to service your Wille, our machines come with an entirely new, entirely removable motor hood. It can be opened in three pieces (left, right, top), when necessary. After the service, the motor hood is just as easy to put back in its place. Easy access to the engine compartment shortens the time spent on the service and checks and frees time for productive work.

Advanced Controllability
Smart Drive is a more ergonomic option for the creeping pedal. In Smart Drive, the accelerator is programmed to turn into a drive pedal, when the hand throttle is activated. You can set the engine's speed of rotation according to the needs of the attachment and use the drive pedal for accurate control of the driving speed. In this way the attachment works continuously in an optimum state irrespective of your driving speed.
PRODUCT SPECS
Engine: CAT C2.2
Output: 36 kW / 48 hp
Lifting force in upper/lower position: 12 / 13 kN , 2700 / 2920 lbf
Lifting height: 705 mm , 27.5"
Max motorhydraulic flow
- 54 + 36 l/min
- 14.25 + 9.5 gpm
- 90 l/min
- 23.75 gpm
Tyres
- 235/75-15
- 31x10,5-15
- 31x15,5-15
Width: 1200/1300 mm , 47"/51"
Length: 3255 mm , 128"
Height: 1990 mm , 78,5"
Wheelbase: 1490 mm , 58,5"
Outer turning radius: 3000 mm , 118"
Weigh: t1900 kg , 4200 lbs
Driving speed: 0-36 kmph , 22,5 mph
PRODUCT REVIEWS
No reviews of this machine
There are currently no reviews of this machine. To leave one email info@projectequipment.ca