Hustler Raptor Limited Zero-Turn Mower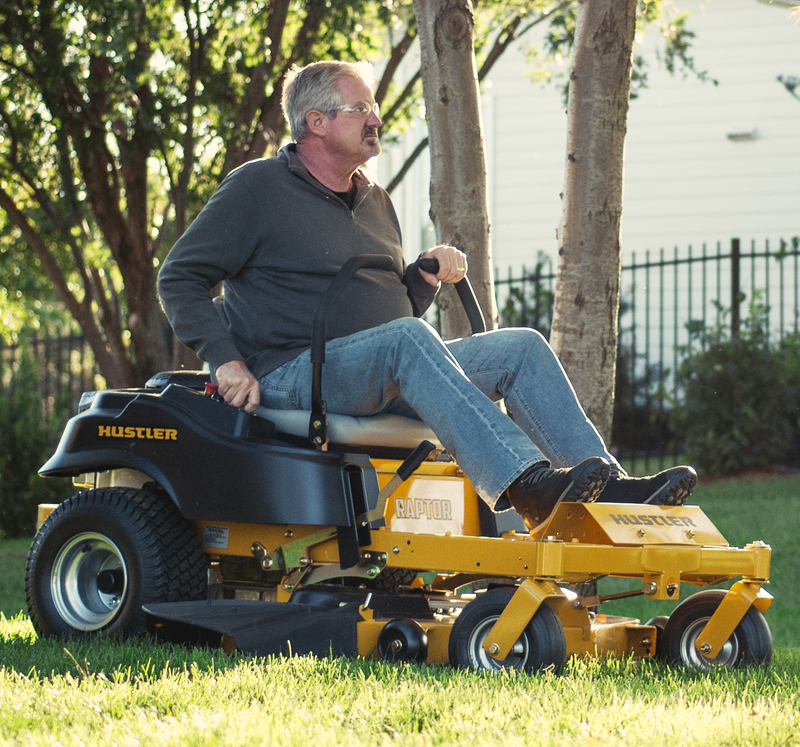 Lease for just $100.25 for 48 months!
The Raptor Limited has all the quality features of a Raptor 52" model plus a bolstered high-back seat with armrests, low profile 10.5" wide rear tires, 5" wide front tires, engine guard and hour meter.
Ask about best pricing, deals and promotions.
Ask about the Yard Card financing program.
Enquire about this Machine
PRODUCT DESCRIPTION
Features
Heavy-duty welded deck
The heavy-duty welded deck provides maximum strength and durability.
Heavy-duty Fabricated Frame
Hustler's heavy-duty fabricated frames are the toughest in its category.
Premium Seat
Custom, bolstered vinyl seat with armrests.
Engine Guard
Standard on the Raptor Limited.
Hour Meter
Standard on the Raptor Limited.
Exclusive SmoothTrak Steering
The most precise steering in the zero-turn industry is only found on a Hustler.
PRODUCT SPECS
ENGINE
Manufacturer:
- Kawasaki FR691V
- Kohler 6600 Series HD or 7000 Series HD (both with Smart Choke)
HP:
- 36" deck: 19HP* - 6600 HD
- 42" deck: 22HP* - 7000 HD
- 52" deck: 24HP* - 7000 HD
- 52" Limited: 23HP* - FR691
* Per SAE J1995
Displacement:
- 36" deck: 660cc Kohler 6600 HD
- 42", 52" deck: 725cc Kohler 7000 HD
- 52" Limited: 725cc Kawasaki FR
Cooling: Air cooled
Engine Warranty: 3 year
DRIVE SYSTEM
Type: Dual hydrostatic
Transmission: Hydro-Gear EZT
Speed: 6.5 mph
Parking Brakes: Patented automatic
DECKS
Cutting Width: Side discharge: 36", 42", 52"
Cutting Heights: 1.5"- 4.5"
Deck Lift: Hand operated
Depth: 4.1"
Blades: 36", 42" deck: 2 52" deck : 3
Blade Length:
- 36" deck: 2 - 17.86" x 2.5" x .203"
- 42" deck: 2 - 20.50" x 2.25" x .188"
- 52" deck: 3 - 17.86" x 2.25" x .188"
Spindles: Aluminum with 3/4" shafts and triple protection sealed ball bearings
Drive: Electric PTO clutch
Construction: 11 ga. fabricated
Spindle Mounts: Reinforced 14 ga.
Impact/Trim Areas: 1/4" x 3/4" steel bar
CONSTRUCTION
Frame: 3.25" x 1.5" x .120" steel
Front Axle: Fabricated with sealed ball bearings
Front Caster Wheels: Commercial duty steel roller bearings, greasable
Front Caster Forks: Fabricated 1/4" steel
GENERAL
Seat:
- 36", 42", 52": Molded vinyl, adjust., suspension springs
- 52" Limited: Premium seat with armrests
Fuel Capacity: 3 gallons
Cup Holder: Yes
Front Tire:
- 36", 42", 52": 11 x 4
- 52" Limited: 11x5
Drive Tire:
- 36": 18 x 7.00 - 8
- 42", 52": 18 x 8.50 - 8
- 52" Limited: 18 x 10.5 - 10
DIMENSIONS
Weight:
- 36": 449 lbs 42": 479 lbs
- 52": 503 lbs 52" Limited: 503 lbs
Height:
- 36", 42", 52": 39"
- 52" Limited: 45"
Length: 73"
Width:
- 36" deck: 37.3"
- 42" deck: 44.42"
- 52" deck: 53.4"
Tire Width:
- 36" deck: 38.3"
- 42" deck: 41"
- 52" deck: 45"
PRODUCTIVITY*
Acres Per Hour:
- 36": 1.89
- 42": 2.20
- 52": 2.72
OPTIONAL ACCESSORIES
- Grass catcher (non-powered 5.2 bushels)
- Lights
- Armrest
- FlexForks
- Mulch kit
- Engine guard
- Hour meter
- Steering extension kit
- Stripe kit (52" decks only)
PRODUCT Reviews
No reviews of this machine
There are currently no reviews of this machine. To leave one email info@projectequipment.ca