Hustler FasTrak Zero-Turn Mower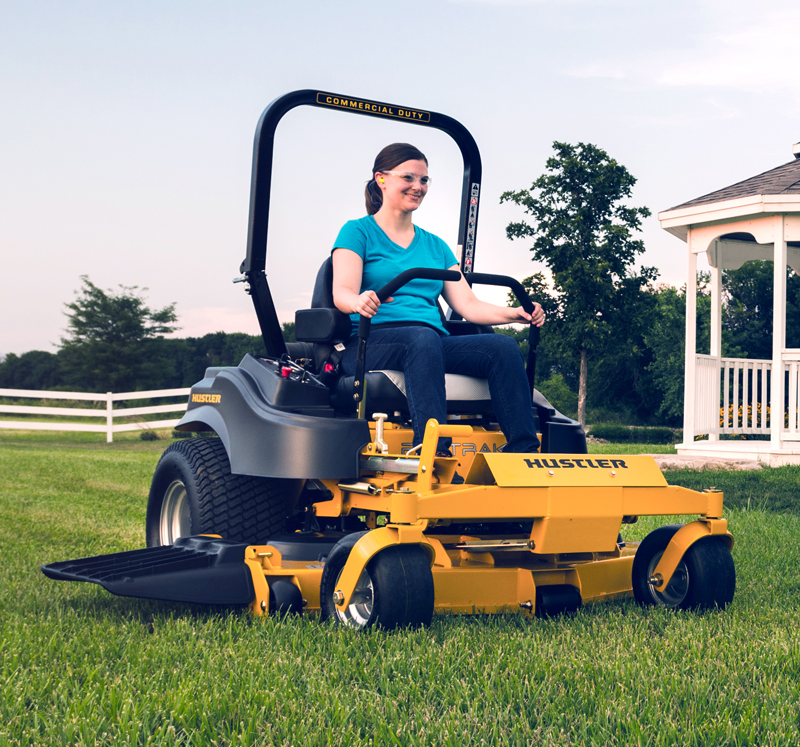 Lease for just $408.22 for 48 months!
The FasTrak is built strong so you can mow like a pro. This commercial-grade premium residential zero-turn mower is for bigger yards, rugged terrain, demanding properties and demanding homeowners. Once you drive a FasTrak, mowing will never be the same.
Ask about best pricing, deals and promotions.
Ask about the Yard Card financing program.
Enquire about this Machine
PRODUCT DESCRIPTION
Features
Welded Steel Frame
1.5" x 3" steel tubes form the core of this frame's strength and durability. Backed by a limited lifetime warranty.
Heavy-Duty Welded Steel Deck
Provides superior strength and durability.
Simple Maintenance
Easy-to-access service areas for simpler maintenance.
Large Drive Tires
22" drive tires provide better control and stability.
Exclusive SmoothTrak Steering
The most precise steering in the zero-turn industry is only found on a Hustler.
Premium Seat
Custom, bolstered vinyl seat with internal suspension for superior comfort.
PRODUCT SPECS
ENGINE
Manufacturer:
- Kawasaki FR691V, FR730V
- Kohler Confidant ZT730, ZT740
HP:
- 54"deck: 23HP* - FR691V
- 60"deck: 24HP* - FR730V
- 48", 54"deck: 23HP* - ZT730
- 48"RD, 54"RD deck: 23HP* - ZT730
- 60"deck: 25HP* - ZT740
* Per SAE J 1995
Displacement:
- 726cc - Kawasaki
- 747cc - Kohler Confidant
Cooling: Air cooled
Engine Warranty:
- Kawasaki - 3 year
- Kohler - 2 year commercial
- 3 year residential
DRIVE SYSTEM
Type: Dual hydrostatic
Transmission: Hydro-Gear ZT-3100
Speed: 8 mph
Parking Brakes: Patented automatic
DECKS
Cutting Width:
- Side discharge: 48", 54", 60"
- Rear discharge: 48", 54"
Cutting Heights: 1.5"- 4.5"
Deck Lift: Foot operated
Depth: 5"
Blades: 3
Blade Length:
- 48" deck: 16.50" x 2.50" x .20"
- 54" deck: 18.50" x 2.50" x .20"
- 60" deck: 20.50" x 2.50" x .20"
Spindles: Aluminum with 1.0" shafts and sealed ball bearings
Drive: Electric PTO clutch
Construction: 10 ga. fabricated
Spindle Mounts: Reinforced 11 ga.
Impact/Trim Areas: 3/8" x 1" steel bar
CONSTRUCTION
Frame: 1.5" x 3" x .125 " steel
Front Axle: Fabricated with sealed ball bearings
Front Caster Wheels: Heavy duty ball bearing, greasable
Front Caster Forks: Fabricated 3/8" steel
GENERAL
Seat: Custom bolstered vinyl with internal suspension and armrests
Fuel Capacity: 5 gallons
Cup Holder: Yes
Front Tire:
- 48": 13 x 5 - 6 smooth
- 54", 60": 13 x 6.5 - 6 smooth
Drive Tire:
- 48": 22 x 9.5 - 10
- 54", 60": 22 x 11 - 10
DIMENSIONS
Weight:
- 48": 828 lbs 48"RD: 833 lbs
- 54": 834 lbs 54"RD: 854 lbs
- 60": 885 lbs
Height: 44.3"
Length: 73.6"
Width w/ chute up:
- 48": 49.1" 48" RD: 48.85"
- 54": 55.1" 54" RD: 54.85"
- 60": 61.1"
Tire Width:
- 48": 47"
- 54", 60": 52"
PRODUCTIVITY*
Acres Per Hour:
- 48": 3.10
- 54": 3.48
- 60": 3.88
OPTIONAL ACCESSORIES
- Mulch kit
- 2-bag power grass catcher
- LED lights
- FlexForks
- Steering extension kit
- Stripe kit
- High vacuum deck kit
- Seat isolator kit
PRODUCT Reviews
No reviews of this machine
There are currently no reviews of this machine. To leave one email info@projectequipment.ca