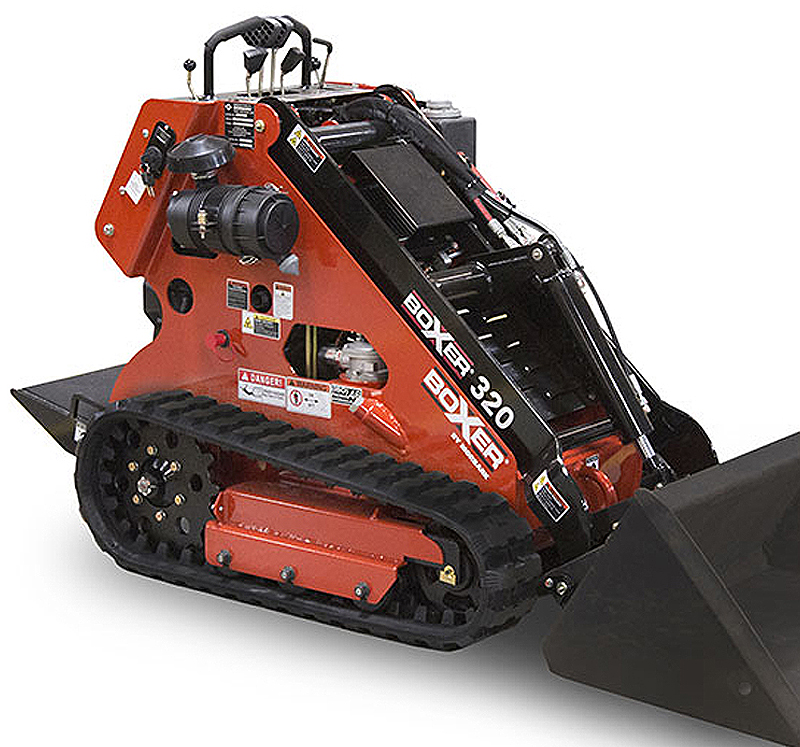 Price: Call for pricing
As part of the 300 Series, the gas-powered 320 offers the power that Boxer has become known for in a smaller package, allowing you to reduce overhead and increase jobsite productivity. Designed to handle a full complement of attachments, the 320 helps minimize hand labor. Because of its reduced size and ease of operation, the 320 is ideal for the rental industry. This compact machine provides the strength to perform a variety of tasks and the versatility to get into tight area.
Ask about best pricing, deals or promotions.
Enquire about this Machine
PRODUCT FEATURES
- 20.5-HP (15.3 kW) Kohler Gas Engine
- 1,250 lbs. (567 kg) tip capacity
- 438 lbs. (199 kg) operation capacity (35% tip load)
- 34.5" (87.6 cm) wide to fit through a standard gate
- Two-pump, 3,000 psi (207 bar) hydraulic operating system develops optimum hydraulic flow to run the machine's auxiliary and propulsion systems, providing enough power to handle full-size attachments
- Dedicated oil cooler to better manage hydraulic heat generation
- Stand-on platform for operator safety and comfort
- Well-balanced and stable
- Excellent ground speed
- Skid-steer style controls
- Universal compact utility loader mounting plate and quick-attach system to quickly and easily switch between any standard attachment
PRODUCT SPECS
Engine System: US (Metric)
Engine: Kohler
Cooling System: Air-Cooled
Horsepower: 20.5 HP (15.3 kW)
Fuel Type: Gasoline (Petrol)
Fuel Capacity: 4.5 Gallons (17 Litres)
Hydraulic Capacity: 16 Gallons (60.6 Litres)
Hydraulic Flow (Combined): 11 GPM (41.1 LPM)
Hydraulic Flow (Aux): 8.0 GPM (30 LPM)
Hydraulic Flow (Drive): 3.0 GPM (11.4 LPM)
System Pressure: 3000 PSI (20684 kPa)
Engine Warranty: 3 years
Product Warranty: 1 year
Units: US (Metric)
Track Gauge: 27.5 in (699 mm)
Track Width: 7 in (180 mm)
Weight (No Attachment): 1740 lbs (789 kg)
Length (No Attachment): 68 in (1727 mm)
Length (w/Bucket): 93 in (2362 mm)
Width (Overall): 34.5 in (876 mm)
Height (Boom Lowered): 49 in (1245 mm)
Height (Boom Raised): 92 in (2337 mm)
Hinge Pin Height (Fully Raised): 70 in (1778 mm)
Dump Height: 54 in (1372 mm)
Dump Angle: 34°
Reach: 28 in (711 mm)
Tip Capacity: 1250 lbs (567 kg)
Operating Capacity, 35% of tip load: 438 lbs (199 kg)
Ground Clearance: 5 in (127 mm)
Ground Speed (Max): 3.4 mph (5.5 km/h)
Ground Pressure: 3.9 PSI (26.9 kPa)
PRODUCT REVIEWS
No reviews of this machine
There are currently no reviews of this machine. To leave one email info@projectequipment.ca