Hustler Super Z Hyperdrive Zero-Turn Mower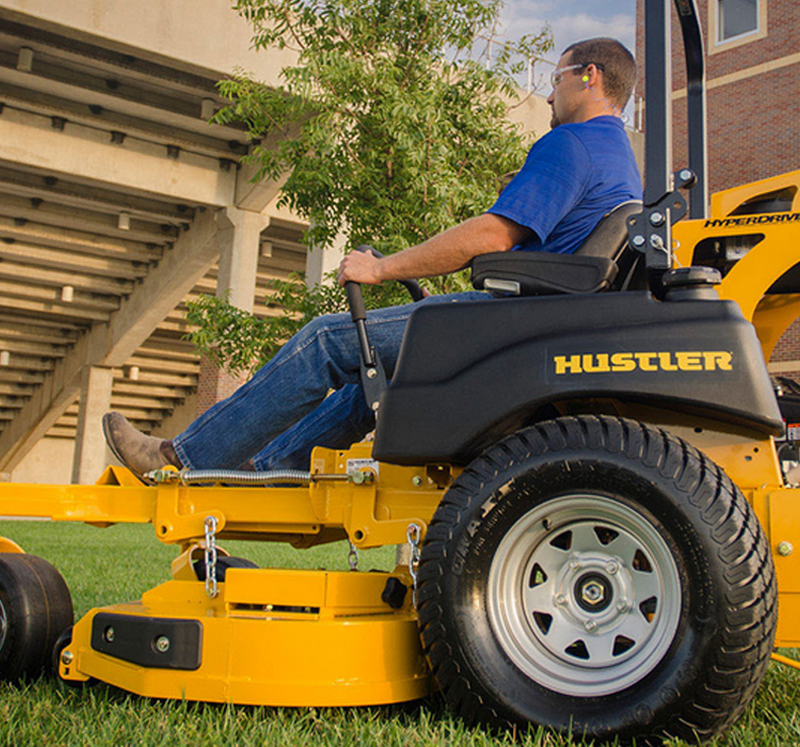 2017 Model Blowout price: $14,369
Regular price: $19,595
Save $5,226
The top-of-the-line commercial zero-turn mower. The new Super Z HyperDrive is designed with the industry-leading HyperDrive System and VX4 deck technology. The strongest of the strong, the fastest of the fast and the top-of-the-line commercial zero-turn mower.
Ask about best pricing, deals and promotions.
Ask about the Yard Card financing program.
Enquire about this Machine
PRODUCT DESCRIPTION
Highlights
- HyperDrive 5 year / 3000-hour pump and motor warranty – unmatched
- VX4 deck – clean cut, excellent performance in all conditions
- 26" drive tires
- Unmatched innovative transmission system
- 16 mph top speed
Features
Speed
16 mph. Fastest of the fast.
HyperDrive Hydro System
A Hustler exclusive, industrial pumps and high torque wheel motors, 3-gallon reservoir, oil cooler and hot oil shuttle.
Premium Seat
Premium suspension seat with operator isolation for all-day comfort.
Drive Tires
Large 26" tires for maximum performance.
VX4 Deck
Clean cut, unmatched performance in all conditions.
Hydro Warranty
3000-Hour pump and motor warranty unmatched in the industry.
Warranty
The Super Z HyperDrive® has the best warranty in its class in the industry. Hustler mowers are built to the highest of standards, but our unmatched warranties provide extra peace of mind. See your local Hustler® dealer for complete details.
PRODUCT Specs
Engine
Manufacturer: Vanguard
HP:
- 60", 72" deck: 36HP* - BIG BLOCK
- 60", 66", 72" deck: 37HP* - BIG BLOCK EFI
- * Per SAE J1995
Displacement: 993cc
Cooling: Air cooled
Air Cleaner: Heavy duty canister
Engine Warranty: 5 year (Vanguard only)
DRIVE SYSTEM
Type: Dual hydrostatic
Pumps: Danfoss DDC-20
Wheel Motors: Parker TG280
Hydraulic lines: Stainless steel Parker seal loc technology
Hydraulic Cooling: Oil cooler with 9" fan
Reservoir capacity: 3 gallons
Speed: 16 mph
Parking Brakes: Patented automatic
DECKS
Cutting Width:
- Side discharge: 60", 66", 72"
- Rear discharge: 60", 72":
Cutting Heights: 1"- 5.5"
Deck Lift: Foot operated
Depth: 5.5"
Blades: 3
Blade Length:
- 60" deck: 3 - 20.5" x 3.0" x .25"
- 66" deck: 3 - 22.5" x 3.0" x .25"
- 72" deck: 3 - 24.5" x 3.0" x .25"
Spindles: Ductile cast iron with steel shafts and sealed ball bearings
Deck Belts: 1
Drive: Electric PTO clutch
Construction: 11 ga.+ 11 ga.+ 7 ga. welded steel
Spindle Mounts: Reinforced 11 ga. doubler + 7 ga. tripler, steel
Impact/Trim Areas: 1.5" x .375" steel bar protector
CONSTRUCTION
Frame: 1.5" x 3.0" x .187" steel
Front Caster Wheels: Mounted with sealed ball bearings
Front Caster Forks: Fabricated 1/2" steel
GENERAL
Seat: Grammer suspension seat with isolator
Fuel Capacity: 12 gallons
Cup Holder: Yes
Front Tire: 13 x 6.5 - 6
Drive Tire: 26 x 12 - 12
DIMENSIONS
Weight:
- 60": 1745 lbs 66": 1775 lbs
- 72": 1805 lbs
Height w/ rops up: 71.5"
Height w/ rops Folded: 54"
Length:
- 60" deck: 84.5" 66" deck: 85.6"
- 72" deck: 86.7"
Width w/ chute up:
- 60" deck: 66"
- 66" deck: 72"
- 72" deck: 78"
Tire Width:
- 60" deck: 57"
- 66" deck: 60"
- 72" deck: 60"
PRODUCTIVITY*
Acres Per Hour:
- 60": 7.76
- 66": 8.54
- 72": 9.31
OPTIONAL ACCESSORIES
- 3-bag grass catcher (12 bushels)
- BacVac grass catcher (10 bushels)
- Mulch kit
- LED lights
- Semi pneumatic front tires
- FlexForks
- Steering extension kit
- Sand kit
- Deck rear anti-scalp wheels
- Deck stripe kit
- Electric deck Lift
- Flasher kit
- Beacon kit
- High vacuum deck kit
PRODUCT Reviews
No reviews of this machine
There are currently no reviews of this machine. To leave one email info@projectequipment.ca